BPM & Workflows: Digitization, Optimization, Automation
Key Takeaways
Specify, plan and implement digitization projects

From process design to process automation with workflows

ADONIS & TIM Workflows: a seamlessly integrated duo for the digitalization of your processes
Facts
Language: English
Share this Video
Agile. Integrated. Simply better.
This online business insight focuses on the following questions:
How can I automate a business process in a user-oriented way? How can this be done in an agile way? Is it possible to digitalize collaborative processes from within the business department?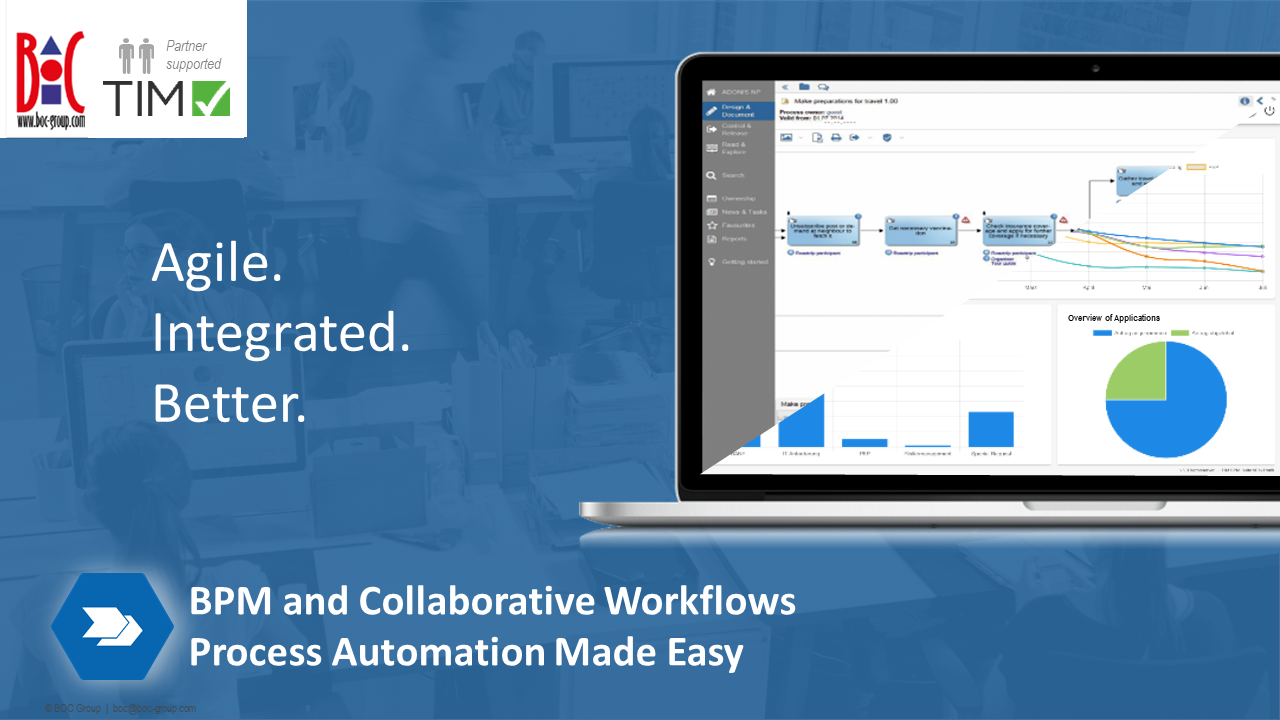 We will show to you how to automate business processes in detail, directly using customer scenarios and real-life examples. This way, processes involving physical documents – often Excel sheets or Word files that were previously sent back and forth – can be quickly and easily turned into collaborative, digital processes.
With our partner solution TIM Human Workflows, the whole process is easy, direct and integrated into ADONIS.
Be curious – without deeper technical knowledge you will digitalize your business processes.
Agile. Integrated. Simply Better.

Watch the on-demand video right away!
Register for Free Business Insights
We are happy about your feedback.
Please share your opinion so that we can continuously improve our offering.
More about ADONIS
Experience professional Business Process Management with ADONIS NP. Our new Platform. Your next Generation BPM Suite.
Take ADONIS for a spin
Sign up for your free ADONIS:Community Edition Account and get to know our BPM Suite
Get a guided tour of ADONIS
Reach out to us and schedule a guided, personal online demonstration of ADONIS NP with one of our experts.