ADONIS NP 5.5 unboxed – Experience a new era of modelling
Key Takeaways
What's new in the release of ADONIS 5.5

How SmartHover makes creating process models even faster and easier, ushering in a new era of modelling.

How the Knowledge Centre provides all users with helpful video tutorials and useful information as a central resource
Facts
Language: English
Share this Video
The web-based business process management suite ADONIS NP, excites a wide range of organisations, from small companies to international corporations, and is a benchmark for modelling, analysing, and optimizing business processes and organizations.
In this webinar, we'll give you a quick overview of the most essential features of our BPM suite, focusing specifically on what's new in the ADONIS NP version 5.5
Featured in this live demo of ADONIS NP 5.5:
– How SmartHover makes creating process models even faster and easier, ushering in a new era of modelling.
– The Knowledge Centre, which provides all users with helpful video tutorials and useful information as a central resource,
– The extensions in the translation component,
– A series of further changes to the user interface and the user experience.
Sign up now and get to know the latest version of our BPM suite.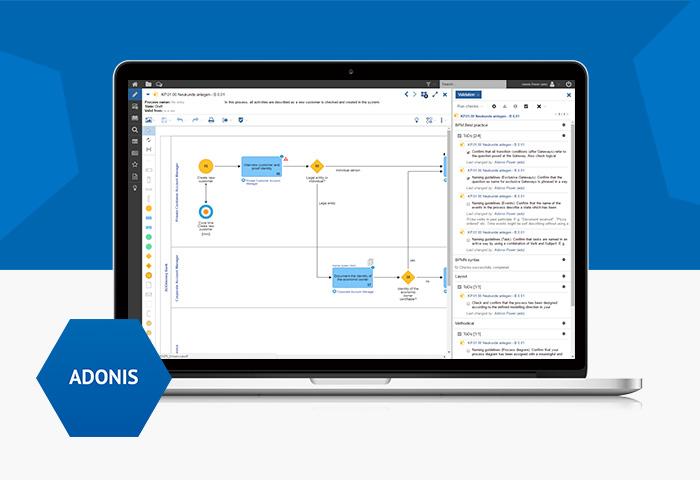 Watch the on-demand video right away!
Register for Free Product Know-How
More about ADONIS
Experience professional Business Process Management with ADONIS NP. Our new Platform. Your next Generation BPM Suite.
Take ADONIS for a spin
Sign up for your free ADONIS:Community Edition Account and get to know our BPM Suite
Get a guided tour of ADONIS
Reach out to us and schedule a guided, personal online demonstration of ADONIS NP with one of our experts.
We are happy about your feedback.
Please share your opinion so that we can continuously improve our offering.