ADOIT 10.0 unboxed – A new benchmark for your EA experience
Key Takeaways
Gain even deeper insights into your applications, business capabilities, technologies, and business objects with the new Insights dashboards

See how SmartHover, our hover modelling assistant, revolutionizes Enterprise Architecture modelling

Get quick access to key elements in your Enterprise Architecture with the new Quick Access feature

Make relations easier than ever with the extended drag & drop functionality
Facts
Language: English
Share this Video
With our web-based, TOGAF-certified EA suite ADOIT, you've got the best-in-class tool at hand to manage your EA in the best possible way – including a multitude of innovative, graphical views for analysis, planning and communication of your Enterprise Architecture.
Take a moment to learn about the latest features in ADOIT 10.0 and embrace the most extraordinary EA experience yet!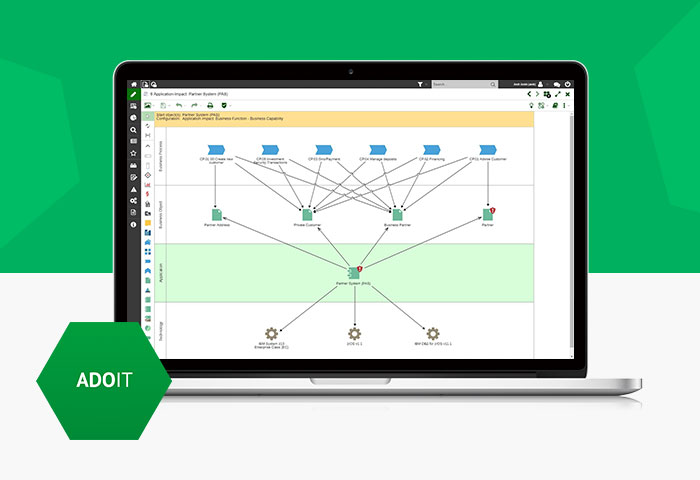 Watch the on-demand video right away!
Register for Free Product Know-How
We are happy about your feedback.
Please share your opinion so that we can continuously improve our offering.
More about ADOIT
Experience professional Enterprise Architecture Management with ADOIT. Our new Platform. Your next Generation EA Suite.
Take ADOIT for a spin
Test ADOIT 30 days for free! Full ADOIT functionality, including repository maintenance, analysis, reports, model comparison and role-specific dashboards.
Get a guided tour of ADOIT
Reach out to us and schedule a guided, personal online demonstration of ADOIT with one of our experts.