ADOIT 8.3 unboxed – Managing ever-changing EA architectures
Key Takeaways
What's new in the the release of ADOIT 8.3

How the EA workflow allows to send changes in the EA documentation to architects for review and approval

How the new search and analysis features improve retrievability and analysis of EA elements
Facts
Language: English
Share this Video
Our TOGAF-certified EA suite ADOIT provides a variety of innovative graphical evaluations for detailed analysis of your architecture, transformation planning and effortless communication of your EA, entirely web-based. In this webinar, you will get a quick overview of the most important features of our EA suite. On top, you learn about the benefits that the innovations of the ADOIT 8.3 provide for you:
EA-Workflow: With this feature, changes in the EA documentation can be sent to architects for review and approval. The release state filter ensures that readers only see information that has been released.
Search Extensions: Search and analysis features improve retrievability and analysis of EA elements.
Audit-Readiness: ADOIT supports the standard PDF/A, which guarantees the long-term archiving and readability of your reports.
User Interface: The optimised user interface with a new flat design easier on the eyes and with improved graphical representation of architecture artefacts will surely leave you pleasantly surprised.
and many more!
Register now and discover the ADOIT 8.3 EA suite!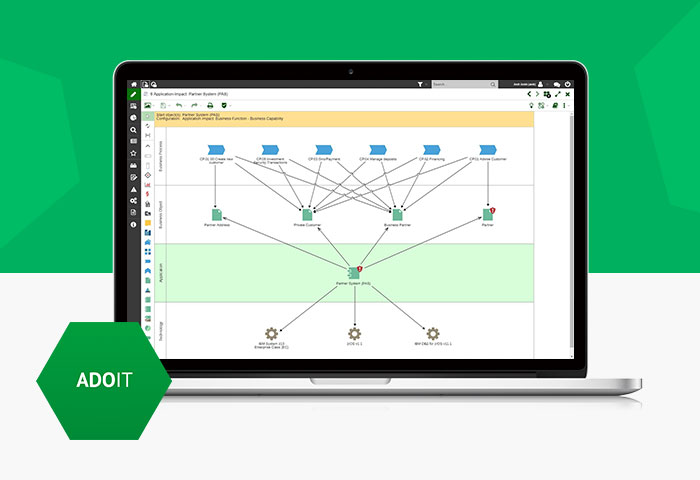 Watch the on-demand video right away!
Register for Free Product Know-How
We are happy about your feedback.
Please share your opinion so that we can continuously improve our offering.
More about ADOIT
Experience professional Enterprise Architecture Management with ADOIT. Our new Platform. Your next Generation EA Suite.
Take ADOIT for a spin
Test ADOIT 30 days for free! Full ADOIT functionality, including repository maintenance, analysis, reports, model comparison and role-specific dashboards.
Get a guided tour of ADOIT
Reach out to us and schedule a guided, personal online demonstration of ADOIT with one of our experts.