ADONIS NP 7.1 unboxed – Comprehensive Process Insights & Easy Access to Your Processes

Key Takeaways
Get to know the new Insights Dashboard, providing a synthesized overview of your business processes.

Learn how the accessibility features and enhancements provide equal chances for everyone.

See how ADONIS NP provides you with more flexibility while modelling.

Learn how to get a consistent overview of administrative activities.

See how to easily exchange data between ADONIS NP and third party systems.
Facts
Language: English
Share this Video
The web-based business process management suite ADONIS NP, inspires a wide range of organisations, from small companies to international corporations, and is a benchmark for modelling, analysing, and optimizing business processes and organizations overall.
In this Product Know-How demo, we'll give you a quick overview of some of the essential features of our BPM suite, also focusing on what's new in the latest version of our software.
Featured in this demo of ADONIS NP 7.1:
The new Process Insights Dashboard, providing a synthesized overview of your business processes, its key data and the most important process management information such as roles, risks, IT, etc.
The new features and enhancements for accessibility-friendly interface, such as optimized colour contrasts, consistent and easy keyboard navigation, new UI elements, support for screen readers, and more!
The possibility of changing the modelling direction with a single click – including automatic process alignment!
The new audit log for user administration, providing a consistent overview and log of all administrative activities
Extensions of existing integration possibilities, for better communication and data exchange between ADONIS NP and third party systems.
And many more!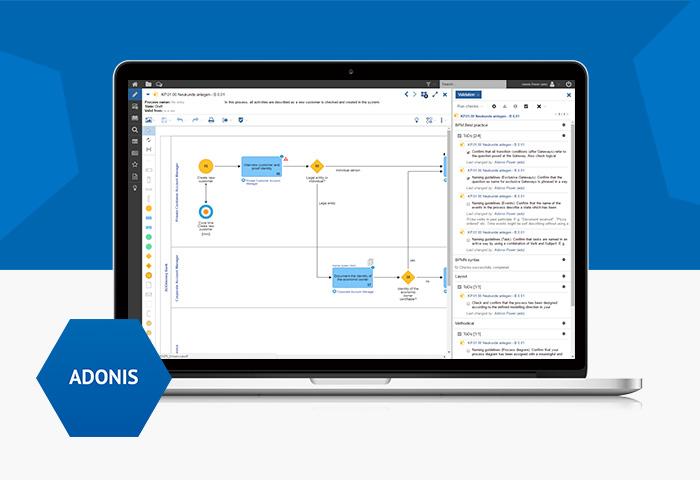 Watch the on-demand video right away!
Register for Free Product Know-How
We are happy about your feedback.
Please share your opinion so that we can continuously improve our offering.
More about ADONIS
Experience professional Business Process Management with ADONIS NP. Our new Platform. Your next Generation BPM Suite.
Take ADONIS for a spin
Sign up for your free ADONIS:Community Edition Account and get to know our BPM Suite
Get a guided tour of ADONIS
Reach out to us and schedule a guided, personal online demonstration of ADONIS NP with one of our experts.