What's new in the release of GRC 2.0
Key Takeaways
What's new in the release of GRC 2.0

How to implement legal requirements, standards and frameworks (such as Solvency II, Basel II, COSO II, ISO 31000 or COBIT)

In which way can GRC be integrated with your BPM and EA repositories

How you can use the easy-to-find, revision-proofed historical information in your audits

Which workflows, and notifications help you plan and distribute tasks
Facts
Language: English
Share this Video
Risk management, ICS and compliance are important cornerstones of an integrated management system. Companies are increasingly recognizing that the use of GRC ensures the completeness and correctness of financial reporting as well as the compliance with external and internal requirements and also contributes to increasing the efficiency of operational business.
In this demo, the new features of GRC 2.0 will explain how you can successfully implement the requirements of these areas and benefit from interdisciplinary interfaces as well as overlaps in your organization.
Get to know in this Product Know-How Demo:
How to implement legal requirements, standards and frameworks (such as Solvency II, Basel II, COSO II, ISO 31000 or COBIT),
In which way you can integrate GRC with your BPM and EA repositories,
Which workflows, and notifications help you plan and distribute tasks,
How you can use the easy-to-find, revision-proofed historical information in your audits.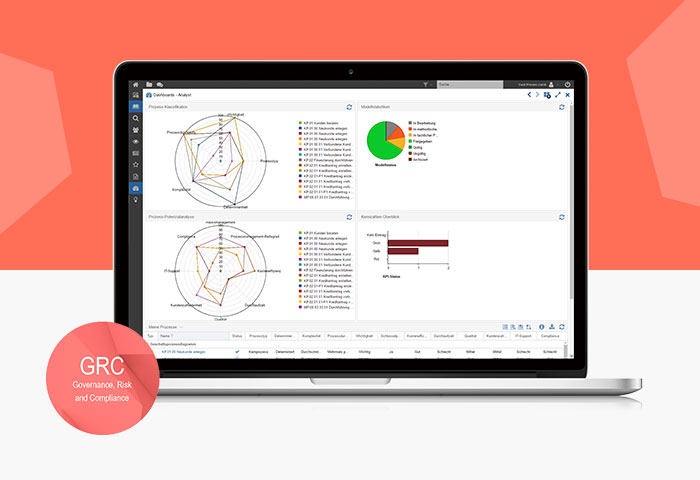 Watch the on-demand video right away!
Register for Free Product Know-How
We are happy about your feedback.
Please share your opinion so that we can continuously improve our offering.
More about GRC
Your next generation GRC suite for ICS,
Risk and Compliance Management.
Get a guided tour of GRC
Reach out to us and schedule a guided, personal online demonstration of GRC with one of our experts.